* - If the page did not print, use the Print function in the "File" menu of your browser.
Pandora Style Necklace - Fruit of the Vine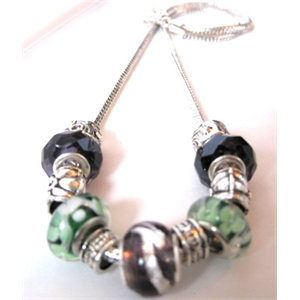 Contact Information
You must Sign In / Join the Community to view seller's contact information.
1 @ $99.00 ITEX dollars (USD) / ea
Description
Date posted:
26-Nov-2013
This beautiful one of a kind Pandora style piece entitled "Fruit of the Vine" is made of lampwork glass, pewter, and a silver plated necklace. This will make the perfect gift for your family, friends, co-workers, employees, valued customers, or yourself! Matching Bracelet pictured. Earrings available. Search the Itex site under "pandora" to see all of my listings. Contact 614-323-0395 for more details or to order additional pieces. Many colors and styles available.
Keywords: Pandora, troll, jewelry, gift, valentines day, mothers day, graduation, bracelet
Images