* - If the page did not print, use the Print function in the "File" menu of your browser.
Pure Brass Wall Sconce Candle Holder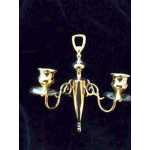 Contact Information
You must Sign In / Join the Community to view seller's contact information.
1 @ $99.99 ITEX dollars (USD) / ea
Description
Date posted:
05-Dec-2013
In perfect Condition! Crafted with traditional workmanship, brass candle sconces effortlessly add charm to home decor. Holds 2 candles. Size is 10-1/2" high, 7" wide and 5" deep.


FOR MORE INFORMATION OR TO PURCHASE THIS ITEM, PLEASE CALL DIANE AT (303) 521-3964.
Paypal invoice for shipping will be forwarded to you upon confirmation of your order.
No Returns~No Refunds~ No Exchanges.
Images