* - If the page did not print, use the Print function in the "File" menu of your browser.
Porcelain Statuette Little Girl With A Blue Bird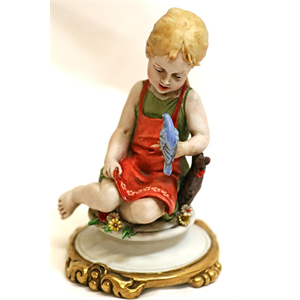 Description
Date posted:
05-Dec-2013
This little girl is playfully sitting among beautifully detailed flowers in her green dress and red apron gently enjoying blue bird with a yellow stomach sitting on her finger. This statuette shows a truly serene scene that will make you appreciate the little things in life. 5.5 inches tall. Base is 3.5 inches wide.
$145 + $15 Shipping. Shipping can be paid via Paypal, cash, check, credit card or FedEx/UPS Account Number.
Keywords: statuette, figurine, decorative, decoration, collectible
Images