* - If the page did not print, use the Print function in the "File" menu of your browser.
Pretty Adjustable Gold Cord And Brown Beaded Belt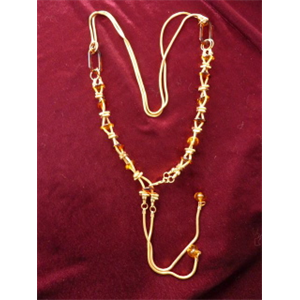 Contact Information
You must Sign In / Join the Community to view seller's contact information.
1 @ $29.99 ITEX dollars (USD) / ea
Description
Date posted:
27-Nov-2013
Brand New! This is an adorable belt that is made with gold cords that entwine brown molded beads. It closes by tying or hooking the belt around a 22 to 36" waist. Really cute with the gold corded tassels that hang at the end. Perfect for all occasions.
FOR MORE INFORMATION OR TO PURCHASE THIS ITEM, PLEASE CALL DIANE AT (303) 521-3964 OR EMAIL
dianeabby@msn.com
Paypal invoice for shipping will be forwarded to you upon confirmation of your order.
No Returns~No Refunds~ No Exchanges.
Keywords: accessories, clothes
Images