* - If the page did not print, use the Print function in the "File" menu of your browser.
Vintage Wmn's White Nautical Blouse by Karen Scott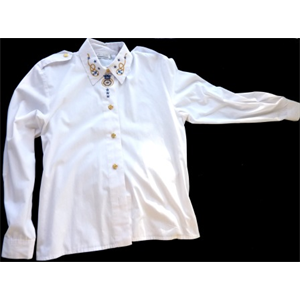 Contact Information
You must Sign In / Join the Community to view seller's contact information.
1 @ $59.99 ITEX dollars (USD) / ea
Description
Date posted:
11-Dec-2013
In Perfect Condition, never worn. By Karen Scott, this size 8 blouse is 60% cotton and 40% polyester. In this nautical theme you'll see embroidered stars, ropes, etc on a crisp white long sleeved blouse. Has adorable gold buttons with an anchor on it. Measures 25"L, bust 42" and 23" long sleeves. Is missing a bottom button that won't be seen when tucked inside your pants or skirt. Retailed for $89.99, but is being sold for $59.99. Really cute!
All Antiques and Collectibles are from a private collection.
FOR MORE INFORMATION OR TO PURCHASE THIS ITEM, PLEASE CALL DIANE AT (303) 521-3964 OR EMAIL dianeabby@msn.com.
Paypal invoice for shipping will be forwarded to you upon confirmation of your order.
No Returns~No Refunds~ No Exchanges.
Keywords: clothing, women
Images