* - If the page did not print, use the Print function in the "File" menu of your browser.
Book: College FAQ Book by Rozalia Williams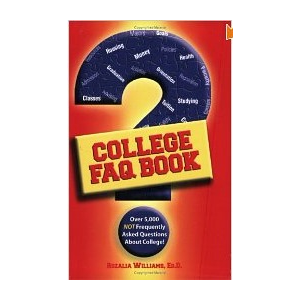 Contact Information
You must Sign In / Join the Community to view seller's contact information.
1 @ $24.95 ITEX dollars (USD) / ea
Description
Date posted:
11-Dec-2013
Brand New paperback! In this, the first and only comprehensive book of questions about the college experience, Dr. Rozalia Williams, an expert on higher education counseling, provides you with over 5,000 questions on every aspect of the college experience, from high school preparation to alumni associations and everything in between. With questions categorized into thirty subject areas, readers will learn the right questions to ask about how to select a college, succeed academically, juggle finances, balance a social life, graduate and begin the job search. This book is a must-have for anyone trying to get in, stay in or get out of college!
FOR MORE INFORMATION OR TO PURCHASE THIS ITEM, PLEASE CALL DIANE AT (303) 521-3964 OR EMAIL dianeabby@msn.com.
Paypal invoice for shipping will be forwarded to you upon confirmation of your order.
No Returns~No Refunds~ No Exchanges.


Images